What are Results Reports?
Results Reports allow you to share results with users outside of your account. You can make results publicly available or securely share them with a password.
Create a New Results Report
On your form's "Results Reports" page, click the "New" button and give your Results Report a unique name. When you're finished, click the "Save" button.
After you save the Results Report, you'll be able to see its Table Report Link and Charts Report Link. Share these links with your users.
Edit or Delete an Existing Results Report
On your form's "Results Reports" page, use the list on the right to select a Results Report. Modify any settings. When you're finished, click the "Save" button. To delete a Results Report, select it and click the "Delete" button.
If you delete a Results Report you've shared, it will stop working for all users.
Report Links
There are two different links that can be used to view your Results Report: Table and Charts. The Table link shows results data in a table, with one row per result. The Charts link shows results data as pie and bar charts, with one chart per item on your form. You can share just the Table link, just the Charts link, or both.
Table

Charts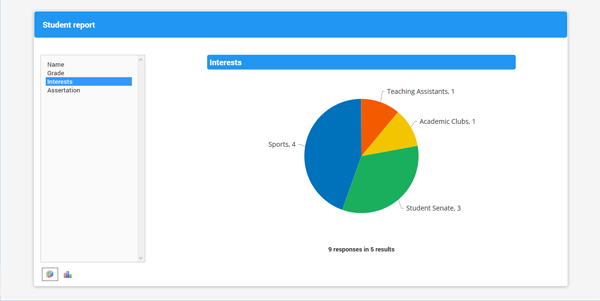 Table Reports can only show up to 100 item columns. If your form has more than 100 items, you can use a Results View to control which items are included.
A Results Filter can be used to display only results matching specific criteria. Table Reports without a Results Filter will show a search box, allowing users to make their own search.
If your Results Report has a password, after a user successfully logs in they'll stay logged in until they click "Logout" or until their login session expires (after about 2 hours). The Table link and Charts link for each Results Report share the same login session, so if a user logs into one they won't have to separately log into the other.
Additional Information
To make offline or custom reports, you can download your results in Excel or CSV format on your form's "Results -> Export" page.
Results Reports are form-specific, there isn't a way to use information from multiple forms in the same Results Report.